Paris, 2010-12.
Céramiques, support métallique// Ceramics, metallic support.



Critique de la société des apparences à travers le thème du masque.

A travers deux triptyques qui se répondent : les masques que l'on porte en société : Croyance, terre chamotée noire, cheveux et piercing - Force, céramique émaillée
et cuir - Désir, céramique, latex et bronze ; et ce que l'on cache derrière ces masques : Soumission, céramique émail métallique et métal - Répulsion, porcelaine et verre - Mélancolie, céramique émaillé, oeil de poupée et verre.

//Apparence explores the theme of the mask.
Through two triptychs facing each other : the mask that we wear in society : Belief, black chamotee, hair and piercing - Strongness, ceramic and leather - Desire, ceramic, latex and bronze ; and what we hide behind those masks : Submission, ceramic metallic glaze and metal - Repulsion, porcelain and glass - Melancholia, ceramic glazed, doll eye and glass.

Croyance/ Belief
Transcularité urbaine, appropriation culturelle , croire en l'autre.

"I try not to have faith / 've faith / to believe in / to have faith I believe in irrational believe / reality / approximate understanding of the world / divine creature, conception / freedom, freedom
human rights / rights, woman rights / justice, freedom"
Remix voix interview Noam Chomsky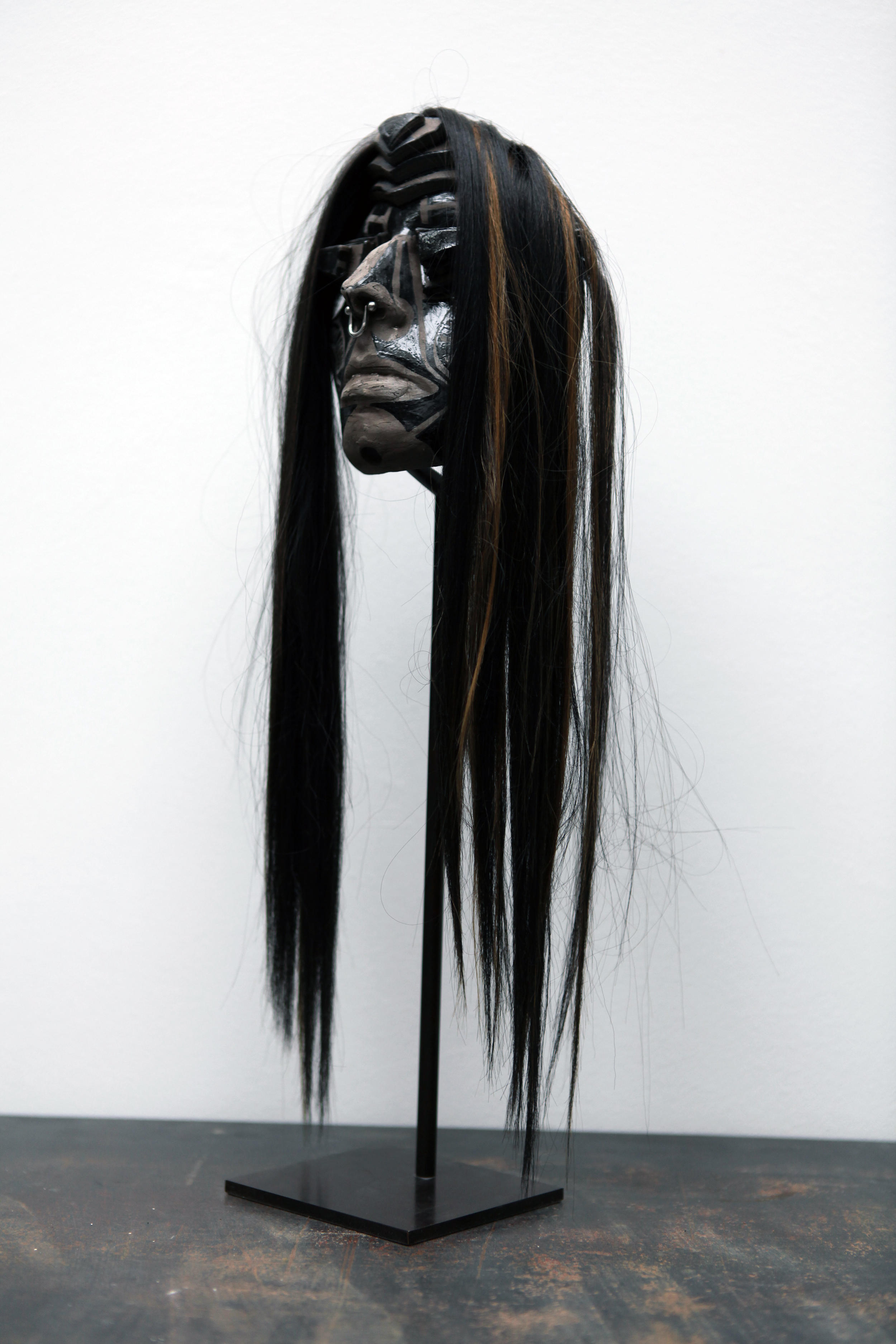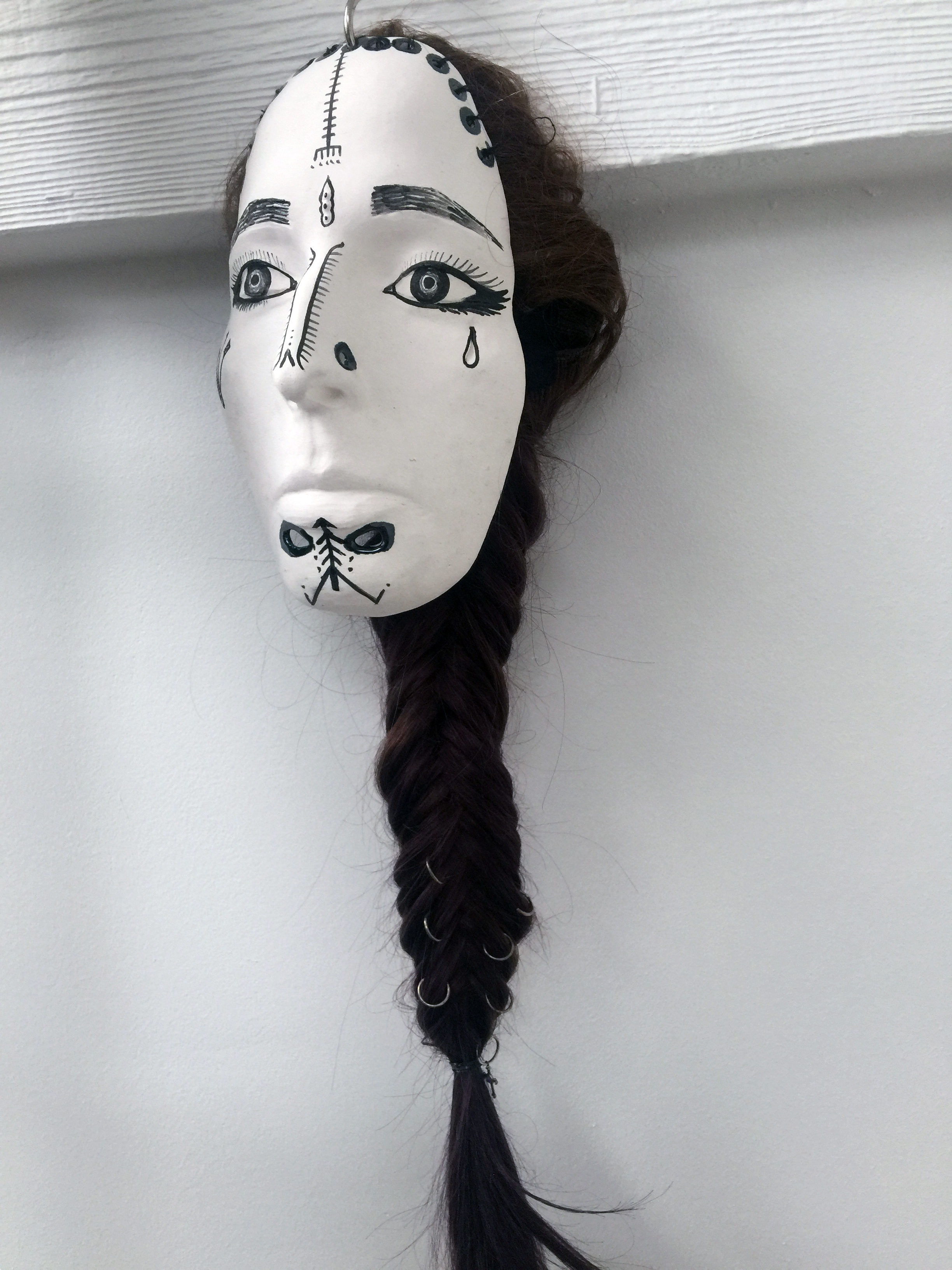 Force/ Strengh
(Ka mate Ka mate / Ka ora Ka ora) cliché force viril

"Frappez des mains et des cuisses / Que vos poitrines soufflent / Pliez les genoux / Laissez vos hanches suivre le rythme / Frappez des pieds aussi fort que vous pouvez / C'est la mort ! C'est la mort ! / C'est la vie ! C'est la vie ! / Voici l'homme poilu / Qui est allé chercher le soleil et l'a fait briller de nouveau / Faites face ! / Faites face, en rang / Soyez solides et rapides / Devant le soleil qui brille" /
Son Haka, All Blacks




Désir/ Desire
Désir imposé par la société aux femmes, lèvre vulve.

"Eros vainqueur / "What's your name ? Brendon / How old are you ? 20 / What are you wearing ? Short shorts" / Désir / "Are you strong ? I like to think so. You think you can rip that shirt ? …. / Nice body. Thanks" / Ce dur très doux témoin captif. Ce dur.. / "You look like a movie star. Yes, I am. / You are ? Yes, yes, yes, yes. / You made love in a film already ? Yes, I am an actress. / I am an actress. I am an actress"
Son CK banned advertising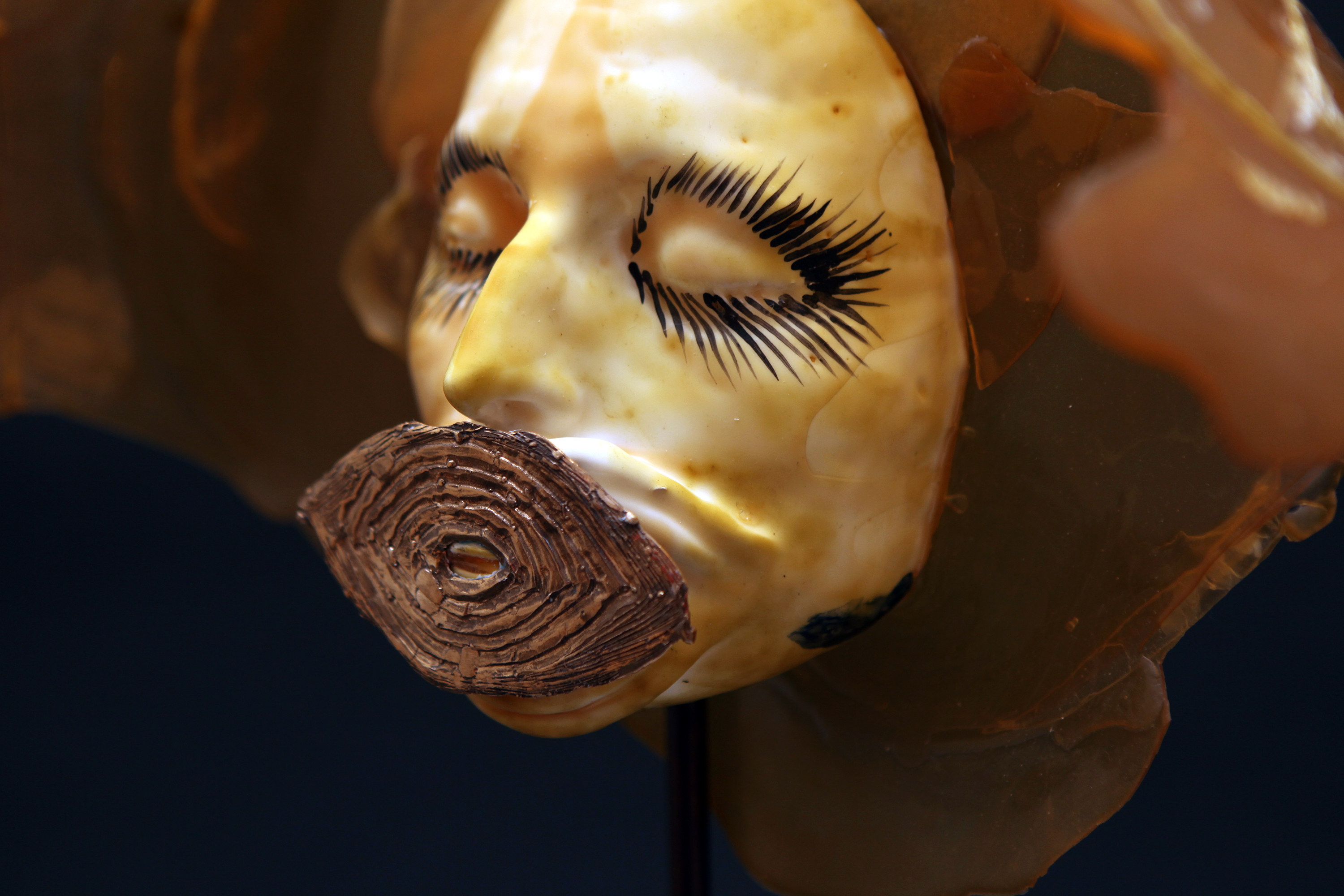 Soumission/ Submission
masque érotique, soumission derreière le désir
"Salope ! / Give me a O', Give me a A' / beautiful hair ! the hair ! / beautiful, beautiful."
voix off d'un shooting de Candy Darling




Répulsion/
émotionellement instable, opposé de Self-Love, éruption.

"C.L. I am in a character so emotionally damaging / H.W. I would never have sex with a group / Well, if it's in the script, Yeah, of course. You know, you have to do it. / C.L. Character / hated it, I've hated it. I don't know why I didn't like it. / cause, I give too much when I giv / / H.W. That's horrible my god ! / C.L. nervous breakdown, when you breakdown, breakdown, breakdown."
Remix interview Courtney Love et Holly Woodlaw.



Mélancholia/
Tristesse, mélancolie, regard larmoyant vers le passé... Janus, 3e oeil, regard vers l'insconcient.

"Espèce de morte. / mauvaise compagne, espèce de morte. / de quel corridor, de quel corridor ? / Je te vois quitter ta figure close et bien fermée à clef. / Tu sors de toi"
Lecture du poème Mauvaise Compagne, espèce de morte de Serge Reggiani.




Le film d'animation hybride matérialise et dénonce "la société des apparences", série de codes sociaux qui enferment l'individu, derrière lesquels il cache ses sentiments réels. Les masques mis en scène s'animent et se mélangent pour mettre le spectateur face aux apparences.

This hybrid animated film materializes and denounces "the society of appearances", set of social codes that enclose
the individual, behind which he hides his true feelings. Masks come alive to bring the viewer face to appearances that society makes him take, but also faces behind these appearances.




extrait vidéo 2010




dimensions :