Dark Dolls
/Porcelain dolls

Jingdezhen, 2017-19
Porcelaine émaillée, cheveux, tissus, yeux de verre ancien. Lit métallique. /// Glazed porcelain, hair, fabric, glass eyes. Métallic Bed.


Reconstitution de la chambre d'enfant.

Les poupées de porcelaine sont inspirées par l'idée d'une reconstitution symbolique de ma chambre d'enfant. Enfant, je suivais mes parents dans les brocantes, et chinais les poupées anciennes. Sur des lits métalliques et de bamboo, en partie récupérer pour ce projet, je 'collectionnais' ces poupées qui partageais ma chambre.

Les poupées sont liées à l'univers de l'enfance et à ses traumatismes. La poupée, loin d'être anodine, s'inscrit pleinement dans une histoire culturelle et sociale.

Reconstitution of the child's room. Porcelain dolls are part of a principle of reconstitution of my own nursery. As a child, I followed my parents in flea markets, and collected old dolls. On metal and bamboo beds, partly salvaged for this project, I 'collected' these dolls that shared my room.
The dolls are related to the world of childhood and its traumas.The doll, far from being harmless, is fully part of a cultural and social history.


Marilou, Charlotte, Marilyn, Mercredi, & Louise.
Chacune d'entre elles est nommée et raconte une histoire, un aspect personnel, symbolique et sociétal.

Marilou, Charlotte, Marilyn, Wednesday, & Louise.
Each of them tells a story, a personal and symbolic aspect of my own history.




MARILOU, peau de porcelaine noire, beauté ébène en contraste avec MARILYN, cliché blonde de la représentation de la peau de porcelaine blanche dans les codes de beautés occidentaux.
A rebours des poupées "cheveux blonds, yeux bleus, peau de porcelaine" vendues massivement dans le commerce, la poupée noire est un geste de résistance politique.

MARILOU, black porcelain skin, ebony beauty in contrast with MARILYN, blonde cliché of the representation of the white porcelain skin in the codes of Western beauties.
In reverse of the dolls "blond hair, blue eyes, porcelain skin" sold massively in trade, the black doll is a gesture of political resistance in past homes.





CHARLOTTE, le pompon classique d'origine, dont la robe fendue laisse entrevoir la vulve et cré la vulnérabilité autour de ces "petites filles".
CHARLOTTE, the original tassel, whose split dress reveals the vulva and creates vulnerability around these "little girls".



MERCREDI, le goût du gothique dès l'enfance, la représentation des phobies et des cauchemars.
WEDNESDAY, the freak show aspect, the taste of Gothic since childhood, the representation of phobias and nightmares.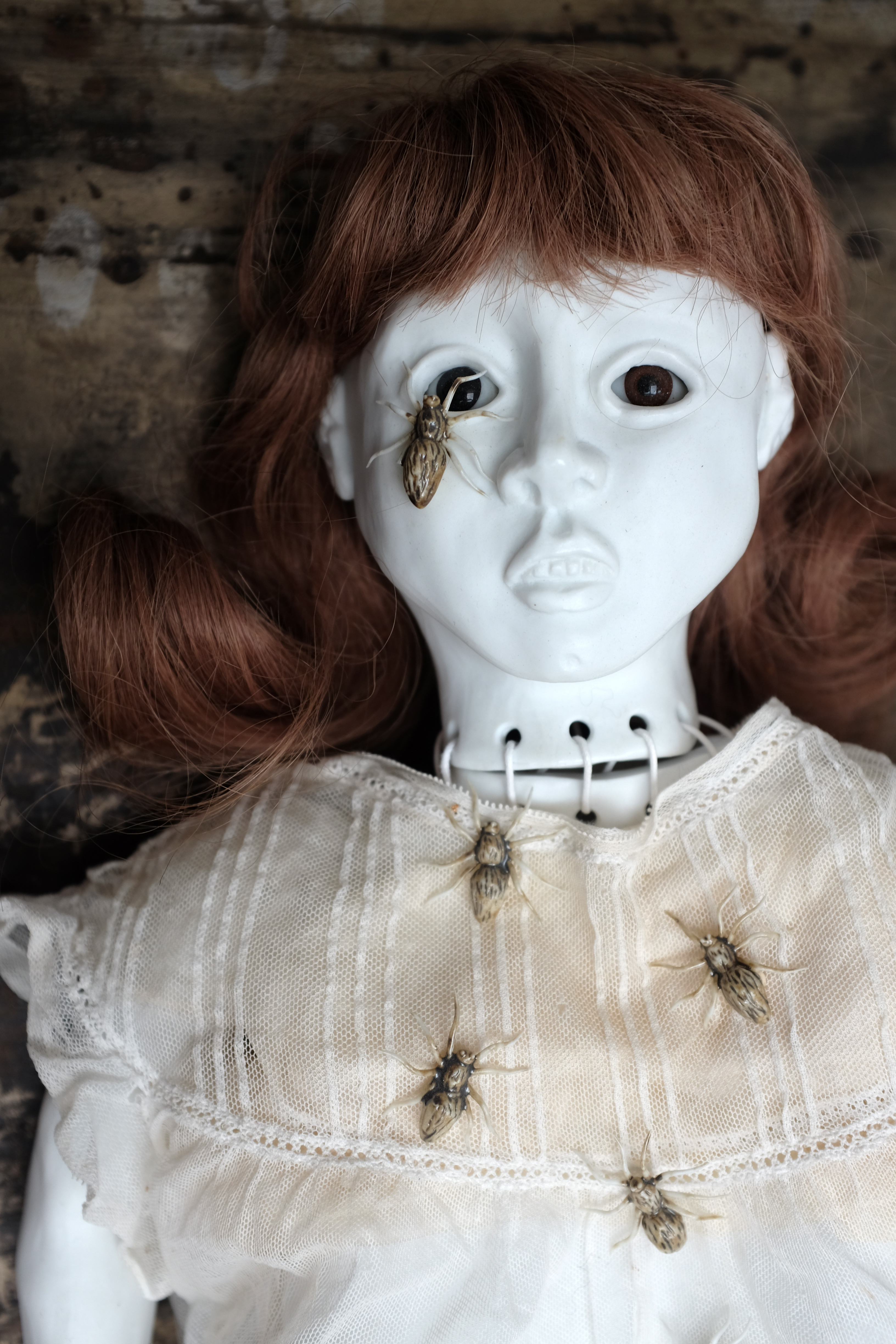 LOUISE, question dans le genre, poupée rose aux cheveux longs et au petit pénis en hommage à "Fillette".
LOUISE, question in the gender, pink doll with long hair and small penis in tribute to "Fillette", LB.







dimensions :